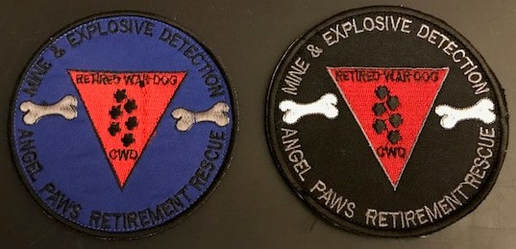 ---
​CWD Shadow & CWD Bella found their forever homes. Enjoy your families and homes in your retirement. Please consider donating to keep bringing and finding homes for these Civilian Soldiers Home.
Transport #6 for 2 CWD's Retiring from Afghanistan to the United States is being planned and have a fundraiser site posted for the upcoming missions. This will be a General Fund for all costs required or encountered for the CWD's and will be to completion of Military Dog Adoption.
Your Donations are how we get this done, please consider Donating
​No amount is too small.
Donate Button below and video from previous Transports.
Thank You!
11 Contract Working Dogs (CWD's) Retired were brought back from Afghanistan in Transports 3, 4, & 5 during September 2014
​Thank You All!
Second Transport CWD's from Afghanistan to the United States July 2014

The next few CWD transports are also being organized the following CWD to be Retired K-9's will be traveling later in the year to the United States.

---
NON-PROFIT Pending IRS approval
EIN # 463349082
Established Board Of Directors